Whiskey deserves better than a sphere of ice, a splash of sweet vermouth, or a handful of assorted nuts. whiskey from around the world, whether it is light and airy Speyside, rich and smooth bourbon, fiery and bold rye, or shamelessly peaty Islay, boasts such a broad range of subtleties for all manner of savory fare. The complementary nature of many expressions is further highlighted by the fact that they are completed in casks once used to age wine. Feel free to switch to grain at the dinner table.
Chocolate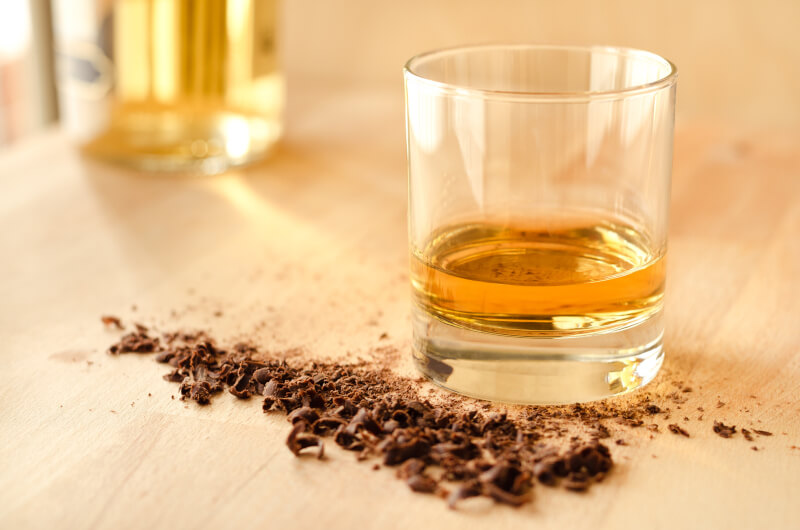 This is a typical combination that many distilleries base their tours on, and it works wonders for bringing out the dram's stronger flavor.
Select your whiskey first, and then look for a chocolate that has a tasting profile that goes well with it. A sweet, slightly fragrant chocolate, for instance, can help bring out many of the nuances in a rich, peated whiskey. The trick is to try something different from your typical chocolate and see where the flavors lead you. You may learn something fresh about a classic.
Oysters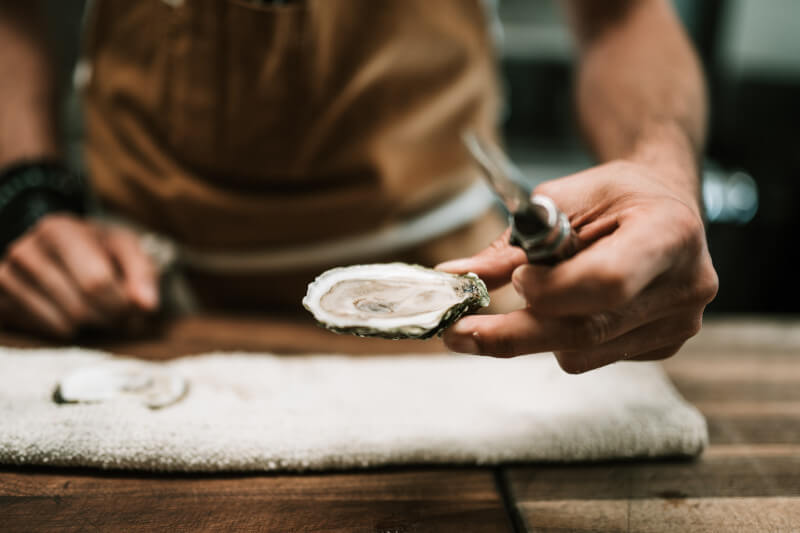 Oysters and Scotch are a great match, and the greatest part is that you can get a decent bottle for under $60. In addition to the smokiness of the peat, a peated Scotch like the Bowmore 12 also boasts notes of lemon, honey, and citrus. When combined with oysters, it creates a symphony of flavor by highlighting the brininess and contrasting the creaminess.
Apple Pie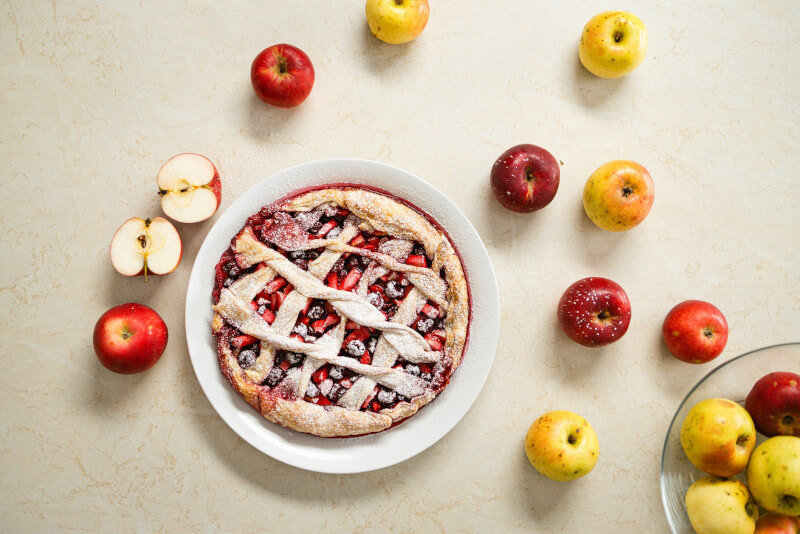 Apple pie, a quintessential American dessert, goes wonderfully with a Scotch. Stunning, right? Choose something sweet, pleasantly aromatic, and airy, like fruit. Stick with Scotches that are additionally slightly spicy, like a Glenfiddich 15 or another one that is produced using oak barrels, as apple pie frequently includes generous portions of spices like cinnamon.
Pork Belly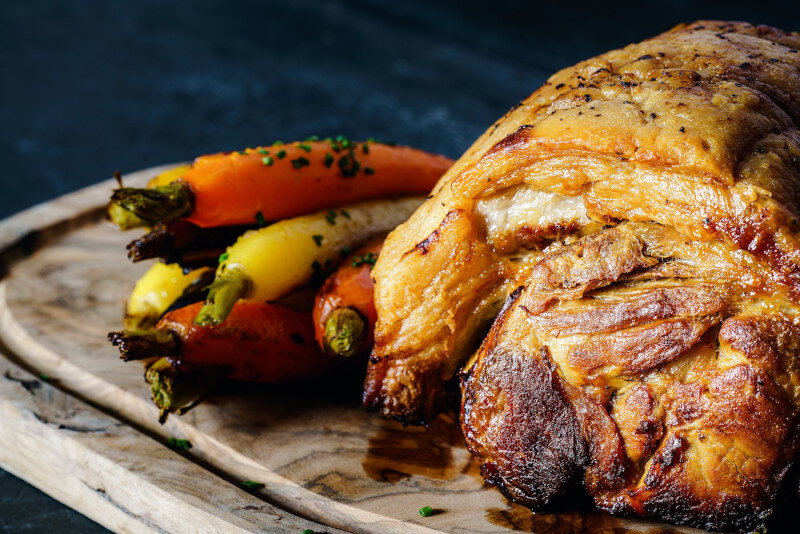 Many excellent BBQ joints also feature an extensive whiskey list since the two go so well together. whiskey and a mountain of slow-cooked pork belly are a terrific flavor combination that brings out the best in each. Pairing Buffalo Trace bourbon with a dish that has similar features is a nice idea.
BBQ and Bourbon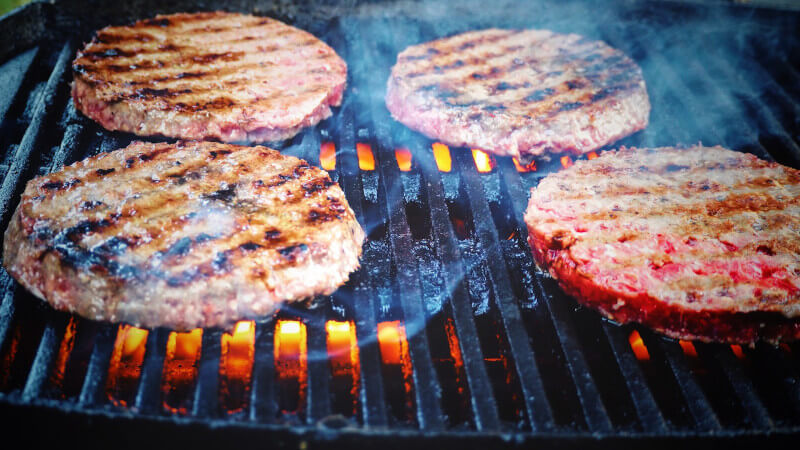 Bourbon's smoky sweetness complements the smokiness of the barbecue's powerful flavors. Smoked meats, like ribs or pulled pig, go great with bourbon.
Scotch and  Smoked Salmon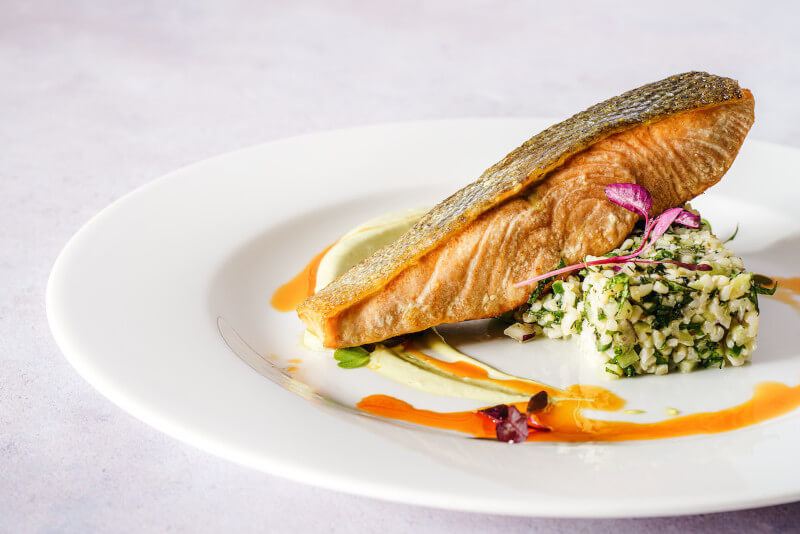 Scotch, with its smoky flavor, compliments smoked salmon, which also has a distinct smokey quality. An excellent breakfast or brunch combination is smoked salmon on a bagel and a peaty Scotch such as Arran Single Malt.
Olives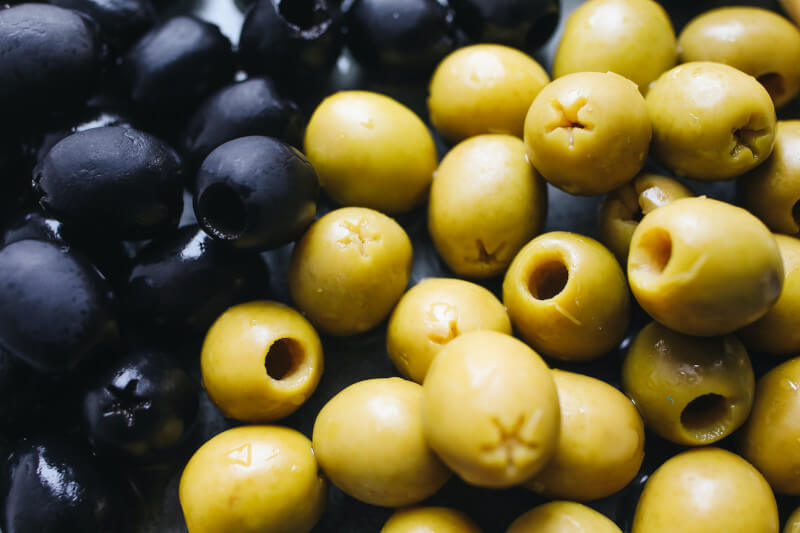 When it involves food and Scotch, olives of any kind—green, plucked, or even just plain jarred—are a no-brainer. Olives, especially filled olives, go wonderfully with a variety of Scotches because of their salty, briny flavor. This is why whiskey sour and old-fashioned cocktails benefit from their use. It's important not to make things too complicated or peaty. You can use any light-bodied single malt.
Cheese and Bourbon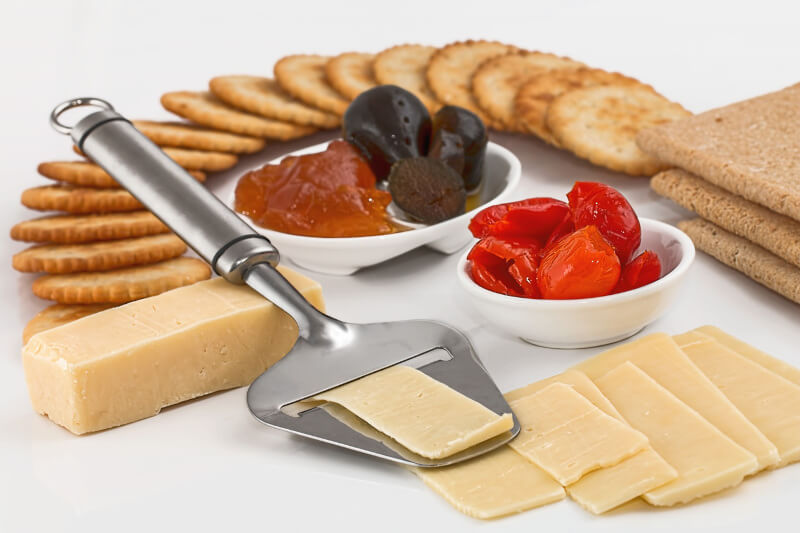 Cheese's luscious texture and flavor compliments bourbon's subtle sweetness and smokiness. For a refined nibble, try some aged cheese or gouda with a glass of bourbon like Four Roses Kentucky Straight Bourbon.
A Cheese Board and a Bottle of Teeling Irish whiskey
The smooth taste of Teeling is backed by the brand's history of surprising and delicious malts. The Single Malt was completed in Sherry, Madeira, Cabernet Sauvignon, Port, and White Burgundy casks, making it very delicious and rich. Red berries, plum, apricot, lemon, fig, dried fruit, citrus, vanilla, clove, toffee, and wood are all impacted by this. It should come as no surprise that a spread of substantial cheeses, notably blue cheese, smoked gouda, and other rich varieties, goes wonderfully with this wine. The malt's upfront intensity makes it a treat to taste with spicy foods like kofta, lamb, rogan josh, and smoked pork.
Nuts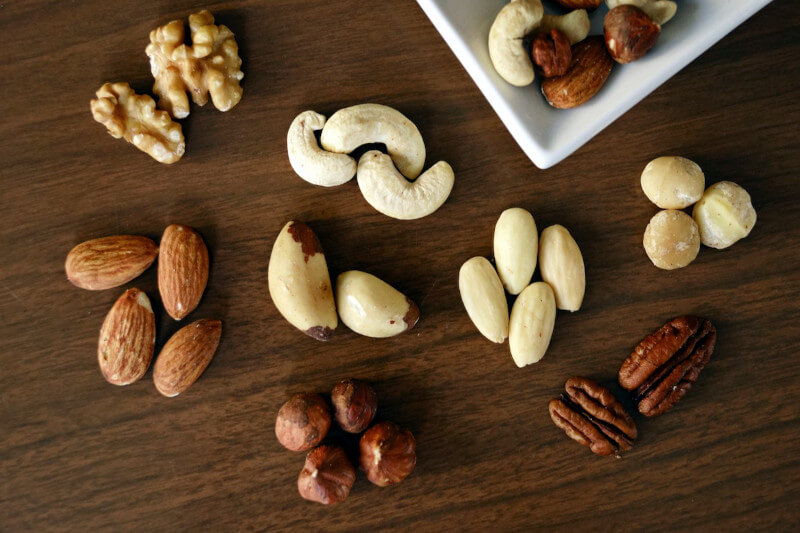 As a rule of thumb, smoky Scotch pairs well with roasted nuts, and powerful Scotch pairs well with sweeter nuts. Scotch and nuts make a great pairing, and you'll enjoy the flavors even more if you stick to those rules. Alcohols with a touch of sweetness, such as the Glenlivet Caribbean Reserve, the Glenmorangie Nectar D'Or single malt, or the Brenne Cuvee Speciale, go well with bitter nuts like kola or bitter almonds.
Try Ardbeg's Wee Beastie or Benriach's Smoky 12 with some strongly roasted nuts like peanuts, cashews, or walnuts. As an appetizer or as part of a delicious supper of grilled filet and hummus, a full-bodied Scotch is the way to go. Redbreast Lustau, Yamazaki 12-year-old, and Hibiki 17-year-Old are all complex Scotches that pair well with hummus, but be warned: they are intense.
My Best Recommendations for Enhancing the Flavour of Meals Using Single Malt Whiskies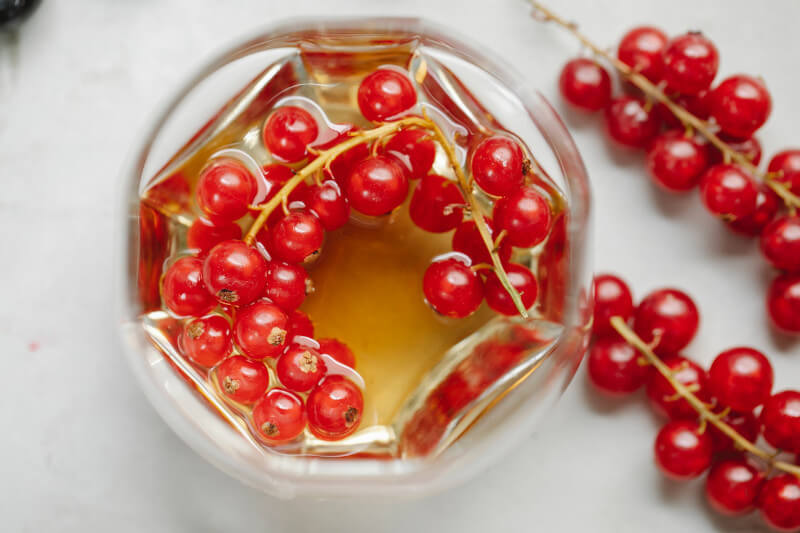 The objective is not merely to locate complementary flavors; rather, it is to craft a pairing in which either the cuisine or the whiskey reveals previously unnoticed facets of the other. For our purposes, 1+1=3 refers to the synergy we hope to achieve in the world of food.
Avoid foods that are extremely bitter, spicy, or garlicky because they will mask the whiskey's flavor. Sticky flavors like this can make it difficult to taste the nuances of your dram.
whiskey goes well with just about every alcohol, and food cooked in fat is one of the best examples of this. Butter and fatty meats can leave a greasy film on your mouth. whiskey's fat-soluble aromas are quickly released into your mouth when you drink a glass.
You shouldn't always look to pair flavors. Smoky whiskey may seem like a natural complement to smoked salmon, but the whiskey's smoke will overpower the subtle smokiness of the fish. Try a duo where one element of the dish pairs well with one of the flavors in the whiskey. A whiskey with an apple undertone, for instance, pairs splendidly with pork and strawberries but not with apples.
Make an effort to balance the load. whiskey aged in bourbon casks, similar to wine, pairs well with milder flavors like those found in shellfish like sushi and sashimi, while whiskey aged in sherry casks complements bolder flavors like those found in braised lamb shanks and grilled beef. This pairing prevents one from overpowering the other.
A small amount of chili in a meal with some olive oil will dissolve into the oil and bring out the oil's natural heat and flavor. A sip of whiskey will unleash that flavor in your mouth, creating a delicious bomb. Be aware that alcohol has a multiplicative effect on heat, and use caution.
Don't limit yourself to matching the basic flavors of sweet, sour, bitter, salty, and umami; consider pairing based on scents and mouth feels as well. The taste of food and drink is only one aspect of the overall experience.
Here are some of my favorite pairings with Glenfiddich's highly acclaimed core range now that we've established the ground rules. These are not only legal, but they are also combinations I've tried and enjoyed at various whiskey-tasting events.